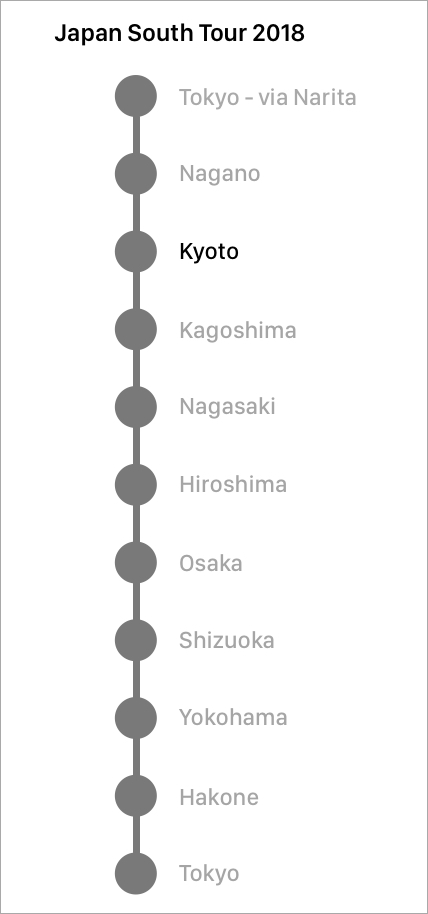 Today is the day that I am going Arashimaya. Arashimaya is a western district of Kyoto. It is a major touristy site! Going there just for the check box exercise.
In order to go there from where I stayed, I need to take a local train from Kyoto Station. It is a 15 mins ride. As I have a JR Rail Pass, I just need to show the conductor my pass and here I go! The track is track 31-33 at the JR West Gate.
The train will take you to Saga-Arashiyama Station. Do note that there are two types of train, one will take you direct to this station from Kyoto, while the other will take you thru most of the stop. To me it does not matter as I am not rushing for time. It took me less than 30 mins to get to Arashiyama.
Once you get to Arashiyama Station, you will need to walk about 10 mins to get to the Main Street of Arashiyama. Here you can make a decision on whether to go to the Bamboo Forest or you can Tenryuji Temple.
A bit of video from today's adventure!
Bamboo Forest
I decided that I want to hit the Bamboo Forest first!
Tenryuji Temple
While going up the Bamboo Forest – I decided to go into the Tenryuji Temple (thru the North Entrance). Tenryuji Temple is a Unesco World Heritage site. I must say it has been really well maintained.
From Japan Guide
Tenryuji (天龍寺, Tenryūji) is the most important temple in Kyoto's Arashiyama district. It was ranked first among the city's five great Zentemples, and is now registered as a world heritage site. Tenryuji is the head temple of its own school within the Rinzai Zen sect of Japanese Buddhism.

Tenryuji was built in 1339 by the ruling shogun Ashikaga Takauji. Takauji dedicated the temple to Emperor Go-Daigo, who had just passed away. The two important historic figures used to be allies until Takauji turned against the emperor in a struggle for supremacy over Japan. By building the temple, Takauji intended to appease the former emperor's spirits.
Okochi Sanso Garden
After making my rounds all over the Temple (note that I did not go into thru the main gate but in fact I went thru the North Entrance which is from the Bamboo Forest. I then headed to Okochi Sanso Garden, which is another garden in one of the top 10 things to do in Arashiyama by Trip Advisor.
Okochi Sanso Garden is formerly the estate of the famed film actor Okochi Denjiro (1898-1962), this sublime villa and surrounding gardens are now open to the public. Many people balk at the Y1,000 admission fee, but we think it's worth shelling out to see this place, especially since the admission fee includes a nice Japanese sweet and a cup of hot matcha tea (hold onto your ticket in order to get these in the teahouse at the conclusion of the tour). The main house here is one of the finest examples of traditional Japanese residential architecture anywhere and the teahouse is a wabi-sabi gem. Source : Inside Kyoto
Gio-Ji Temple
After finishing up the Bamboo Forest,  I then continue to walk to the next temple. As I did not go to too many temples this trip, I am not templed out yet. In fact, when I read the top things to do by Trip Advisor, this one caught my eye! The temple is filled with moss (gross no?). Well – its not that the temple is filled with moss but it is surrounded with a moss like garden! Impressive really. I don't dare to walk near the garden. One foot step of my heavy feet will be a mark for centuries!
Randem Train Station/Kimono Forest
This is one of the smaller train station in Arashiyama. It is not part of the main line that you take to go to Kyoto, but probably a small line between smaller part of Arashiyama. The only reason why this is somewhat famous is because it is located on the Main Street of Arashiyama. There are few things you can do here:
Kimono Poles
Onsen foot bath
Togetsu-kyo Bridge
Togetsukyo is a 155-meter bridge over the Katsura River flowing leisurely in Saga Arashiyama, a well-known scenic place in the ancient capital of Kyoto. The artistic form of the bridge excellently matches the nature and is a symbol of sightseeing in Kyoto as embodying the aesthetic sense of Japanese people. From JNTO.
Food I ate Today!
Had few things – Soy Donuts (damn nice) and Tofu set lunch (also damn nice). Didn't managed to find matcha cream puff but thats ok.
Thats all for now. Video will come later 🙂